Prom Limousine Service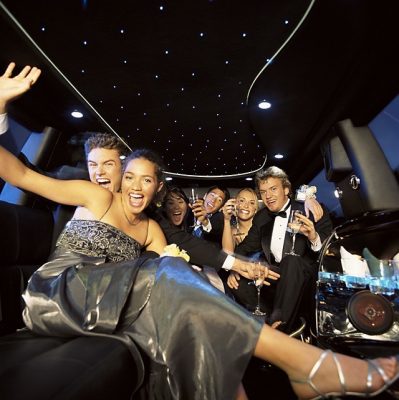 Once a year, Juniors and Seniors in High School get the opportunity to feel grown up and special. By dressing up in beautiful dresses and suits, they enjoy the best of their youth with dancing, dinner and all around beauty. Of course Junior Prom and Senior Ball are nights never to be forgotten. To ensure that both parents and students alike always remember this memorable night Apex prom limousine service is here to help.
We at Apex view our Ball and Prom limo service as a commitment to both parents and students. We always want to make sure that when using our limos for prom and senior ball that the parents feel comfortable with their kids in our prom limo vehicles and that the students have a time of their life. We are both consistent and popular when it comes to providing limousine and luxury prom transportation for Junior Prom and Senior Ball throughout the Bay Area. The reason for this is that our prom limo packages, limousines, and limousine drivers combine to make both students and parents happy, excited and safe.
Limo For Prom
Our vehicles receive regular tune ups and mechanic examinations to ensure that they always meet the highest standards of safety. We never allow our prom cars to take to the road without total assurance that they are 100% safe. Our mechanics are professionals and assess the ability for our limousines to take to the road based upon the highest professional safety standards. This safety is complimented by pristine and luxurious leather interior that make any limo for Prom or Ball night one to remember. Because Prom and Ball are attended by High Schoolers under the age of 21 we always take out any alcohol from our prom limos and have a very strict no alcohol policy in our limo for prom vehicles. This is a way to make sure that everyone is safe. Our professional limousine drivers are the best in the business. They are given thorough background checks before being hired and are put through driving tests to reflect their driving abilities. We never allow amateurs or people with bad driving records to drive around your kids. Our drivers are the best in the business and always make sure to maximize the safety of everyone in our limousines. Our limousines also are equipped with state of the art surround sound systems that make every limo for Prom or Ball that much more fun. We allow the students total control over the music so they can play exactly what they want during the night. The safety of our limousine service for prom, the competitive limo prices for prom, the respectability and reliability of our drivers and the luxurious and fun amenities of our prom limo vehicles combine to make Apex the perfect Prom or Ball choice for any High School throughout the Bay Area.
Prom Limo Transportation
When using Apex limo service for Prom or Ball we pick up all of our guests at a decided upon pick up point. Here we make sure everyone is in the vehicle and drive them to the pre-decided upon destinations. To ensure the safety of all who enter an Apex Napa limousine we are not flexible when it comes to destinations. We make sure to strictly adhere to the pre-decided upon route and destinations so that no parent has to worry or question where their child is at any moment. We also know how important it is to arrive on time to Prom and Ball. Our limousines make sure to stick with the schedule and get everyone where they need to be on time. Our limousine drivers stick to a list of rules and do everything in their power to prevent any alcohol or other unsafe behavior in their vehicles. We also ensure that any students in our vehicles also have the best possible time they can. We want to make sure that when riding to Prom or Ball in one of our vehicles everyone is having the time of their lives so that their Prom or Ball will be something they never forget.
When providing limousine transportation for Prom or Ball we keep close contact with parents and provide a direct line to get in touch with the limousine driver. This allows any concerns to be brought to the attention of the driver immediately and ensure that everyone is on the exact same page. We at Apex love providing High Schoolers an opportunity of a life time. We know how stressful Senior and Junior years can be. For this reason we go out of our way to make sure that students and parents alike can relax and enjoy the wonders of the special evening. With a consistent safety record and an ever increasing popularity among students and parents alike at area high schools, Apex limousine services for Prom and Ball are the best Prom and Ball services in the entire Bay Area. So when you are deciding on where to eat and what kind of dress or suit to wear make sure to give Apex a call to book your limousine for Prom or Ball today!
PRICING