Del Dotto Vineyards Tour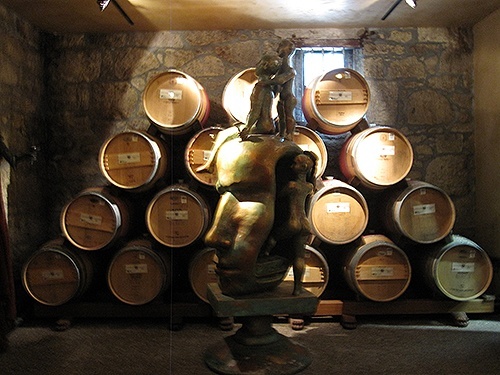 In the heart of the Napa Valley there is a winery that truly stands out among the rest: the Del Dotto Vineyards. This incredible, family owned winery is one of the premier wine producers in all of Northern California. Serving the Napa Valley for over 20 years the Del Dotto Vineyard is a must visit due to it's extensive and well crafted focus on small scale wine production. This small scale production allows the vineyard to focus on crafting premier wines with out getting bogged down by the overwhelming realities of large scale production.
The Del Dotto Vineyard has vineyards throughout the wine country with grapes growing in Rutherford, Oakville, St. Helena, Spring Mountain and the Sonoma Coast among others. While this incredible vineyard has been producing wines for 20 years in 2007 the Del Dotto Vineyard upgraded by completing the Venetian Estate Winery and Caves on their property in St. Helena. By adding this grandiose dimension to their already beautiful operation, the Del Dotto Vineyards clearly take the craft of wine making as seriously as anyone else. One of the unique dimensions of the Del Dotto Vineyards is that they were the first vineyard to bottle wines out of individual barrels. This unique process led to an interest in their wines as well as a phenomenal finished product.
Working with cooperages around the world, the affects of these different barrels have unprecedented consequences on the tastes and varieties of
We take pride in announcing that our services are offered to the Del Dotto Vineyard on any of our client's exploration of the greater Napa or Sonoma Valley. Our limousine services provide pristine transportation to this pristine world class Napa Valley vineyard. When riding with Apex you can always rest assured that we will bring you to the best vineyards that the Napa Valley has to offer. With such incredible destinations to choose from, we always strive to bring you to the best on your Napa Valley or Sonoma Valley limousine winery tours. The Del Dotto Vineyards embody everything that is incredible about the Napa Valley. It is our pleasure to bring you there so you can experience the delicious barrel aged wines for yourself.
PRICING