Grgich Hills Estate Wine Tasting Tour
Grgich Hills Estate Wine Tasting Tour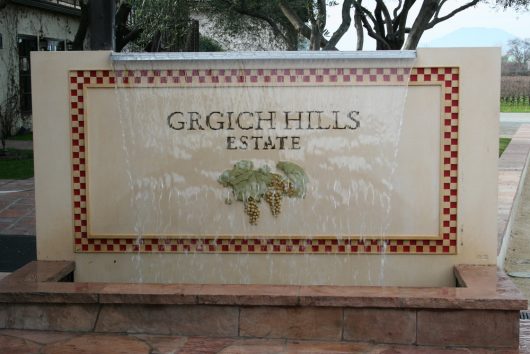 The Napa Valley emerged onto the international wine scene in the now infamous "Paris Tasting" of 1976. This was the year when Napa Valley wines beat the timeless and delicious French wines in a taste test. The wine chosen by the French judges was the 1973 Chateau Montelena Chardonnay created and crafted by Mike Grgrich. This was an incredible feat and set the Napa Valley up to be an internationally respected wine producing destination. Since the 1970s the Napa Valley has become world renowned for its rolling luscious hills, incredible soil and of course sympathetic weather. Mike Grgrich used these sympathetic conditions and victory in Paris to begin Grgich Hills in 1977. Grigich Hills began producing wonderfully complex Chardonnays in the Napa Valley to continue on this tradition of excellent wine production. With a long history of premium wine production at 92 years old Mike Grigrich was introduced into the Vinters Hall of Fame in 2008. With a commitment to small scale artisanal production the contributions to wine production Grgich has made can not be understated. The natural wineries are absent of fertilizers and pesticides creating fantastic and natural vineyards perfect for creating wines. We here at Apex offer full Grgich Hills Estate Wine Tasting Tours. On your Grgich Estate Wine Tasting Tour you will explore everything this region has to offer and more. We will bring you in a timely and supremely relaxing fashion directly to this world class wine producing institution. There is no better way to enjoy Grgich Hills than in the luxury and fantastically enjoyable limousine. We believe in wonderful wines and we also believe you should taste them. Give us a call to begin our adventure today!
Limousine Wine Tour to Grgich Hills Estate
A limousine wine tour to Grgich Hills Estate is something unmatched in the world of limousine wineriy tours. A Limousine Wine Tour to Grgich Hills Estate exposes our clients to the finest of the Napa Valley. The way a Limousine Wine Tour to Grgich Hills Estate works is it begins with one of our wonderful limousines. An Apex limousine is adorned with a surround sound system, fine leather seating and a comprehensive beverage service. Our limousines are available for parties of all sizes – 2 people for a date or a large group for a special event. Our limousines are driven by professional limousine drivers and are available to bring you directly where you need to be when you need to be there. Our limousine drivers boast years of experience and are some of the finest in the industry. On your limousine wine tour to Grgich Hills Estate you will have the option of turning your Grgich Hills Estate visit into something more exciting and interesting by visiting more than one winery. A winery tour can show you all that the Napa Valley is truly made of. By tasting more than one winery you will have the luxury of trying all different corners of the Napa Valley at once. Here at Apex we believe in the essence of the Napa Valley – good people with good practices making exceptional wines. There's a reason why the Napa Valley is consistently rated by respectable wine aficionandos just how wonderful the Napa Valley truly is. Give us a call today!
Wine Tours and Transportation
Beyond our ever popular services to Grgich Hills Estate we also offer comprehensive Wine Tours and Transportation anywhere that you are interested in visiting. Our limousines are perfect for bringing you on full and comprehensive Wine Tours and Transportation in Livermore, Sonoma or Napa. Each one of these wine countries has a unique array of wines that make them special and worth a visit. On your wine tour you will be given the opportunity to create your own itinerary and our limousine drivers will make sure they follow your itinerary word for word. We are also able to suggest the finest restaurants in Napa, Sonoma or Livermore. We will help you get reservations so that you can actually enjoy the finest cuisine with the finest wines in the region. Between wine tours and limousines adorned with luxurious conditions you will find yourself enjoying everything the Northern California wine countries have to offer in a way you never thought possible. Our transportation services are also available for Dinner Services as well as the more extravagant. If you are looking for something beyond basic Wine Tours and Transportation we offer Wedding Services, Junior Prom and a number of other premium limousine services. We are available to bring you to a Golden State Warriors Game, Concert at the Concord Pavilion or even to the Napa Valley for a Wednesday dinner turned fancy. We believe in providing our clients with the finest and most enjoyable journeys accented by the luxury our limousines a call. We promise to get you to your flight, reservation or winery in due time. Give us a call your journey awaits!
PRICING