Mumm Napa Valley Tour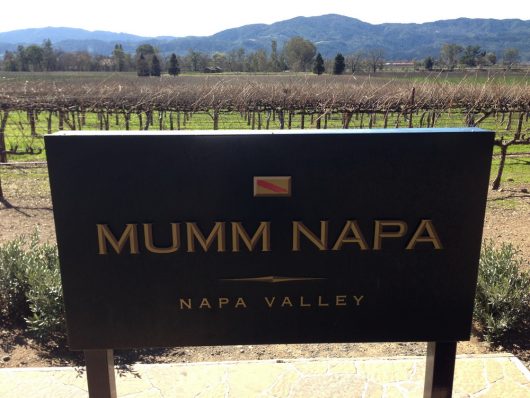 The Napa Valley is the world's finest destination for delicious wines. With an array of wineries and vineyards new and old, each one brings a unique element to the world of wines in the Napa Valley. Each winery has crafted their wines like a piece of art. Here at Apex Limousine Transportation we look at our role as those who connect everyone from wine aficionados to those who are new to the world of wine to the finest wineries and vineyards in the Napa Valley. Rest assured when we suggest a winery for wine tasting we know it is one of the many great ones in the Napa Valley. We want to take this opportunity to highlight one of the wineries in the Napa Valley – Mumm Napa.
Mumm Napa is a beautiful estate located in Rutherford the beating heart of the beautiful Napa Valley. What sets Mumm Napa apart is that this winery takes seriously the essence of traditional and classic wine making.  By utilizing classic wine making techniques, Mumm Napa does not sacrifice precision and care for production or profit. Instead they nurture their ingredients from start to finish and the end result is phenomenal. While many up and coming wineries attempt to integrate new and cutting edge technologies to their process of wine making, Mumm Napa instead focuses on what matters and what counts. This allows them to always produce delicious wines every single time. With roots and connections to GH Mumm, one of the top brands of Champagne in France, Mumm Napa continues to produce wines in this tradition always honoring its roots.  Between 1976-79 as the Napa Valley was becoming an international destination for wine making, Guy Devaux is sent by GH Mumm in France to discover the premier destination in the United States for wine grapes. Of course after exploring the Napa Valley this prime location became the future home of Mumm Napa. With a blessing from traditional makers of Champagne in France, Mumm Napa is a purveyor and producer of the Napa Valley's finest sparkling wines in the United States. By 1991 Mumm Napa had developed its own Deveaux Ranch in the Carneros Region of the Napa Valley. Mumm Napa is now the Napa Valley specialist in producing sparkling wines. These wines are well respected and delicious and have even been seen in the locker room during the San Francisco Giant's recent World Series victory (this is due to a partnership between the San Francisco Giants and Mumm Napa). It is with great pride and pleasure to expose our client base to the wonders of Mumm Napa.
Limousine Wine Tour
Here at Apex Limousine we specialize in providing world class Napa Valley wine tours. Our wine tours are both comprehensive, exciting, fun and of course ultimately relaxing. As the Napa Valley's go to wine tour service provider we have developed close relationships with the finest wineries in the Napa Valley, Mumm Napa included. It all begins with a phone call. Contact us and together we can begin to plan and organize your next Napa Valley wine tour. Depending on your group size and specific desires and interests there are many different options. Each one of our wine tours begins with one of our luxury vehicles. We boast an impressive luxury fleet of limousines and luxury sedans available for our wonderful clients. Our limousines vary in size and are available for party sizes of all kinds. This is important because we are able to service parties large and small. Our limousines are all state of the art, meet the highest safety standards and are divinely luxurious. Each limousine is equipped with surround sound systems with full passenger control capabilities, premium leather seating and a full menu of beverage options. Combined these elements make every ride in an Apex luxury limousine that much more enjoyable. Our limousines are full up to date on safety checks as well ensuring that you will never ride in a limousine that does not meet our rigorous safety standards. We also are proud to say that our team of limousine drivers are the best in the business when it comes to Napa wine tours. They are fully professional and are subject to rigorous background checks and safety standards. In this day and age where so many transportation providers do not oversee their drivers we take the extra step to work with drivers who have experience as well as clean safety and driving records. Our drivers are known for paying attention to the details that matter thereby making every minute in Apex limousine as good as can be.
Limo Wine Tasting
There is a reason we here at Apex limousine Transportation have such a committed and consistent client base. Our clients always come back to utilize our limo services because we consistently provide the finest limo wine tasting tours in Northern California. By teaming up and working with fantastic wineries such as Mumm Napa we are able to add a dimension to our wine tasting tours that many other providers cannot – direct relationships with the wineries that matter. So don't miss out on your opportunity to enjoy a full and wonderful limousine wine tasting tour all the way to Mumm Napa and anywhere else your heart desires. Napa sky is the limit, what are you waiting for? Give us a call today!
PRICING