Napa Valley Wine Train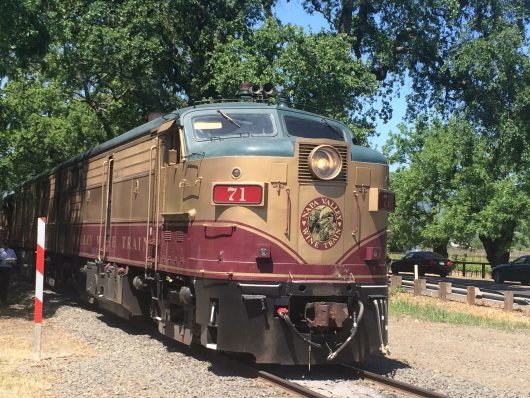 Napa Wine Train Tour
Just north of San Francisco is the wonderful and incredible Napa Valley. This region is time and time again considered the world's finest wine producing region, rivaling even the finest French wines. The lush valleys and rolling hills create an impeccable backdrop, unbeatable in its beauty. The awe inspiring setting combined with fantastic soil and amazing weather have added together to make the Napa Valley a world class destination for all things wine. Alongside the many historical wineries and vineyards is the unique and special Napa Valley Wine Train Tour. Here at Apex Limousine Transportation one of our most popular services is a comprehensive Napa Wine Train Tour . The Napa Valley Wine Train is made of historical train cars built in 1915 by Pullman Standard Company. These fully steel cars give riders the feel of being in a mode of transportation from another era – precisely because the Napa Valley Wine Train is a gem from another time. With a truly divine interior of Honduran mahogany paneling, brass and other beautiful additions the Napa Valley wine train is one of the finest excursions in the region. The train itself is also comprised of multiple different cars – each one with a different feel and speciality. The array of dining cars each give a unique feel to the dining experience. The Zinfandel Lounge Car and Wine Tasting Bar is the perfect place to relax, chat and taste the finest wines that the Napa Valley has to offer. While seeing the real backroad beauty of the Napa Valley, the natural setting for the world's finest wines, you will get to relax and have a wonderful time on your Napa Wine Train Tour.
Transportation to Wine Train Terminal
While the Napa Valley Wine Train itself is a once in a lifetime opportunity, getting there can be a hassle. Here at Apex Limousine Transportation we believe in making your trip to the Napa Wine Train hassle free. In fact we believe the only way to truly enjoy your entire Napa Wine Train experience is by getting there in an Apex Limousine. Transportation to the Wine Train Terminal is an essential part of making your journey incredible from start to finish. Our professional staff will work directly with you to make sure you get to the Napa Wine Train terminal in time for your adventure and your professional limousine driver is there at the Wine Train Terminal waiting for you and your party when you return. We will then bring you and your party back to your residence, hotel or wherever you might need to go. We believe that an Apex Limousine is the perfect addition to your already luxurious day on the Napa Wine Train. We have a large fleet of luxury vehicles that are one of the finest fleets in the Napa Valley and Northern California. Our fleet of vehicles range from a small luxury sedan to a larger limousines that can accommodate parties of nearly any size. Each one of our limousines are driven by a professional limousine driver who passes rigorous safety tests and boasts years of experience as a limousine driver. The professionalism of our drivers help us stand out among the others as a unique and highly professional limousine experience. After a day on the Napa Wine Train, we guarantee that a limousine will be the perfect way to end your day – in relaxation and the comfort of knowing you will get where you need to go safely. For the best Transportation to the Wine Train Terminal look no further than Apex Limousine Transportation!
Napa Private Wine Tours
While the Napa Wine Train is one of the absolutely best excursions in the Napa Valley here at Apex we believe that there is something very special about Napa Private Winery Tours. Napa Private Winery Tours are the perfect way to see, taste and enjoy all aspects of the Napa Valley. When booking an Apex Limousine Napa Valley Wine Tour one of our professional staff members works directly with you to make your Napa Valley Winery Tour a dream come true. We either follow your itinerary place by place, bringing you to the restaurants and wineries you know and love. Or for those looking for something a little more interesting or who have never been to the Napa Valley our knowledgeable staff will gladly develop a full and comprehensive Napa Private Winery Tour for your, free of charge. Our limousine driver will pick you and your party up and whisk you away for the day in a beautiful Apex Limousine through the glorious setting of the Napa Valley to the wineries that make it what it is – special, relaxing and ultimately an experience of a lifetime. We believe in bringing our clients to the wineries that we love, to the ones that exemplify what we believe makes the Napa Valley the special destination that it is. We work directly small scale and big scale wineries that care about the products they produce. From grape to bottle, the difference is obvious when the wineries produce wine with precision and care. Here at Apex Limousine Transportation we believe in connecting people with this tradition of fantastic winemaking in the Napa Valley. So what are you waiting for? Give us a call today and book your Napa Private Winery Tour!
PRICING