Visit Oakville Grocery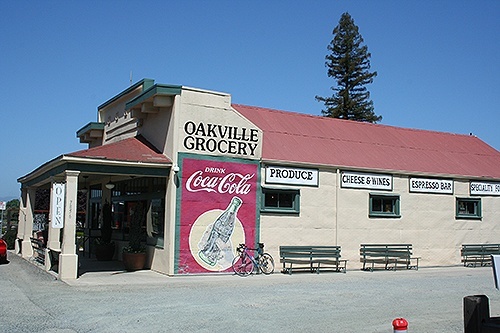 The Napa Valley is full of so many incredible restaurants, wineries and destinations – it's true! However we at Apex Luxury Transportation are always looking for those unique must-see destinations that make your experience of the Napa Valley that much more special. One of the most uniquely Napa Valley destinations we have discovered is the incredible wine country staple – Oakville Grocery. This grocery store has been open since 1881 and is one of the longest running grocery stores in California. What separates the Oakville Grocery from other supermarkets and stores in the area is not just it's deep roots in the wine country – the Oakville Grocery specializes in providing local ingredients unique to the Napa and Sonoma Valley. As a grocery store that specializes in local and artisan products the Oakville Grocery is a perfect stop for a lunch, to pick up groceries or gifts for loved ones. Alongside providing artisan and local wine country ingredients to visitors, the Oakville Grocery also has a delicious lunch and catering menu that can add the perfect garnish to an already phenomenal wine country experience.
The Oakville Grocery is widely respected in Napa and Sonoma and has played an integral role in developing and spreading the best aspects of Northern California cuisine. The fresh and artisan products offered at the Oakville Grocery range from wines and oils to chocolates and cured meats. This selection of fine, local and fresh products has helped develop the unique and delectable network of food producers in this corner of the best wine country in the entire United States. At Apex we believe that the Oakville Grocery represents exactly what we love about the Sonoma and Napa Valley – delicious, local and artisan and of course a destination that cares about it is doing and always does it right. We believe that when you visit the Napa or Sonoma Valley the Oakville Grocery is a must see stop in between wineries for and easy and local lunch or as a stop for gifts and groceries.
With the original location in Oakville and a second store in the heart of Sonoma Valley in Healdsburg the Oakville Grocery is accessible no matter which wine country you decide to explore. When enjoying a Napa or Sonoma Valley winery tour with Apex in one of our beautiful and majestic limousines, we will happily take you to the Oakville Grocery as part of the experience. Seeing long running establishments like the Oakville Grocery help our clients see all corners of the beautiful Northern California wine country. Of course at Apex we also want our clients to taste everything this region has to offer. While internationally known for the delectable Chardonnays, the Napa and Sonoma Valley also produce a range of delicious, gourmet food products that turn any meal into a memory. On your next Napa or Sonoma Valley wine tour make sure to include the Oakville Grocery as a stop for lunch, groceries, gifts and more. We at Apex only suggest the best destinations in the region and would never bring our clients to something less than what we feel adequately represents the region. So on your next Apex Napa Valley or Sonoma Valley wine tour we'll show you the best tastes of the wine country at the Oakville Grocery.
PRICING