Peju Province Winery Wine Tasting Tour
Peju Province Winery Wine Tasting Tour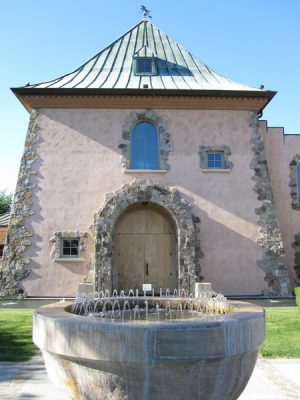 In the heart of the Napa Valley is Rutherford, California. There is a winery there, that stands out from the rest as an embodiment of the spirit and vinicultural commitment of the Napa Valley. This winery is the Peju Province Winery. On your Peju Province Winery Wine Tasting Tour you will experience everything this winery has to offer. The Peju Province Winery began when Tony Peju purchased 30 acres on the Rutherford Estate in the Napa Valley in 1984. While beginning the operation largely selling grapes to other wineries, through methodical investments and the building up of infrastructure through the late 80s and early 90s (as well as the acquisition of other vineyards) the Peju Province Winery developed into a world class winery producing some of the finest wines in the entire Napa Valley. As a family business, the Peju Province Winery imbued this familial love and consideration into the wines as well producing deliciously handcrafted wines of many varieties.  As a Certified Green winery utilizing organic farming techniques a Peju Wine Tasting Tour will show you a winery that is committed to high quality and standards of production for the grapes utilized in the wine making process. For these reasons and so many more we are proud and excited to offer our clients a Peju Wine Tasting Tour in the Napa Valley.  Between the Zinfandel, Cabernet Franc and 2011 Piccolo there really is no way to go wrong when tasting the delicious wines on your Peju Province Winery Wine Tasting Tour. On your next Peju Province Winery Wine Tasting Tour you will have the opportunity to taste and compare the diverse wines that make up Peju's profile of wines and determine for yourself their unique characteristics. Located in beautiful Rutherford on an epic and incredible Estate, there really is no better winery that embodies the essence of the Napa Valley than the Peju Province Winery. A Peju Province Winery Wine Tasting Tour really is the perfect way to enjoy all this wonderful winery has to offer.
Limousine Wine Tour to Peju Province Winery
We are excited to offer our clients high quality customer service on your Limousine Wine Tours to the Peju Winery. On your limousine wine tour to the Peju Province Winery you will arrive in luxury, relaxation, style and in the hands of professional drivers committed to making your experience one you will always remember. One of our luxury sedans, limousines or SUVs will pick up you and your party. From there one of our professional limousine drivers will whisk you away into the rolling hills and lush valleys of the Napa Valley between the world class wineries and restaurants that make up its network of artisanal foods and drinks. A limousine combined with high quality customer service is the perfect way to enjoy a Winery Tour. With the comfort of knowing that you have an attentive, courteous, and professional driver you can relax on your journey and really take in the setting and the wines – let us worry about the logistics of getting you home. A limousine helps bring out the already luxurious and beautiful setting with leather seating, surround sound systems and tinted windows. A limousine wine tour is the perfect way to explore America's top wine producing region – the Napa Valley. As part of your winery tour you will explore and taste the offerings at Peju Province Winery. With such deep diversity of taste in the Napa Valley you will never be in for a dull moment or dull taste on your Limousine Winery Tour. Here at Apex we work hard to make sure every moment on your Limousine Wine Tour to Peju Province Winery is one worth remembering.
Wine Tours and Transportation
As a luxury transportation provider we specialize in just that – luxury transportation. Here at Apex our most popular service are our Wine Tours to the Napa Valley, Sonoma Valley and Livermore Valleys. Each one of these regions embody a specific viniculture tradition and a diverse array of wines worth tasting. We believe that the only real way to enjoy what the wine country has to offer is in the luxury of a limousine. Our luxury vehicles are driven by experienced professionals who have years of experience driving in and around the Napa wine country. Pair our experienced drivers with new model limousines and you have a combination of unbeatable luxury and customer service. On your wine tour you will have an opportunity to visit the finest restaurants and wineries in the given region of your visit. We offer winery tours to wineries throughout the Napa Valley and beyond. Our drivers are able to bring you to a new and exciting winery our staff suggests. Or we can bring you directly to an old winery you know and love. Regardless of which specific winery you want to visit, our commitment to our clients helps us retain a a committed and supportive client base. We believe in showing you everything you want to see in the Napa Valley and beyond. Give us a call today – your journey awaits!
PRICING