Kattkattkatty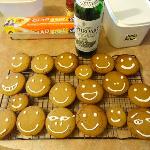 I tend to fly by the seat of my pants when it comes to tours.
To be honest, I knew I wanted to go to one particular vineyard, but had not knowledge of the Napa/Sonoma area.
It was on a wing and a prayer (or rather a Google and quote) that I booked through Apex.
Eric rolled up at our hotel on time and ready to set out. We went straight out to Coppola Estate and had a good meal followed by an amazing tasting.
Having listened to our interest in reds, when we hopped back in the car Eric suggested Ridge as our next stop which provided a great variety of the area.
We decided to squeeze in a third stop and we were given two suggestions, the second of which was Lambert Bridge – another perfect choice.
This was the perfect way to spend our day (incidentally our 10th anniversary).
Thanks Apex and especially thanks Eric who was good company and made great choices!
I would recommend this as a great way to visit this wine region to benefit from their knowledge, service and no one having to be the skipper!
PRICING